Electric vehicle charging is growing necessary for restaurants and hotels as increasing numbers of your guests will be traveling by electric vehicle and pick a place that allows them the to charge their car. It will be like picking a place based on if there is wifi or not. Don't lose these customers simply because you don't have simple charging technology available yet. GreenWay can help.
The Boutique Hotel Pod Lipou is located in the beautiful lower Carpathian region in Modra, Slovakia. Being surrounded by nature, the hotel wanted to show its commitment to a cleaner and healthier future and to attract ecologically oriented customers by offering charging facilities for its guests who arrive by clean, emissions free electric vehicles.
Working with them to understand their needs and provide them the setup that most suited them, we installed a smart wallbox with 1 Mennekes socket 22 kW.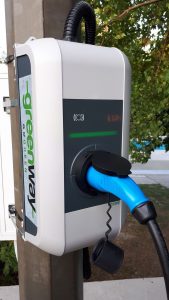 The charger is accessible by using the GreenWay RFID card or by smartphone through the user account registered in the GreenWay network. Thanks to this charger, guests can comfortably charge their vehicle overnight or while enjoying a meal or a hike in the surrounding nature.
"We are very happy that GreenWay Infrastructure enabled us to please our modern, ecologically thinking customers by offering them to charge their electric cars at our hotel. We are constantly trying to improve our services and meet the needs of our clients and this was exactly the right step for us in this direction. Times are changing and we feel that to provide this service to our customers is no longer an option, but a necessity. The surrounding municipalities are very enthusiastic about this too, as this helps to present our area as conscious, modern, sustainable and eco-friendly, it attracts more visitors not only to our hotel, but also to the whole region. We were really satisfied with working with the GWI team, our cooperation and communication was very quick and efficient."
Barbora Mihálechová, Sales & Marketing Manager, Boutique Hotel Pod Lipou, Modra, Slovakia