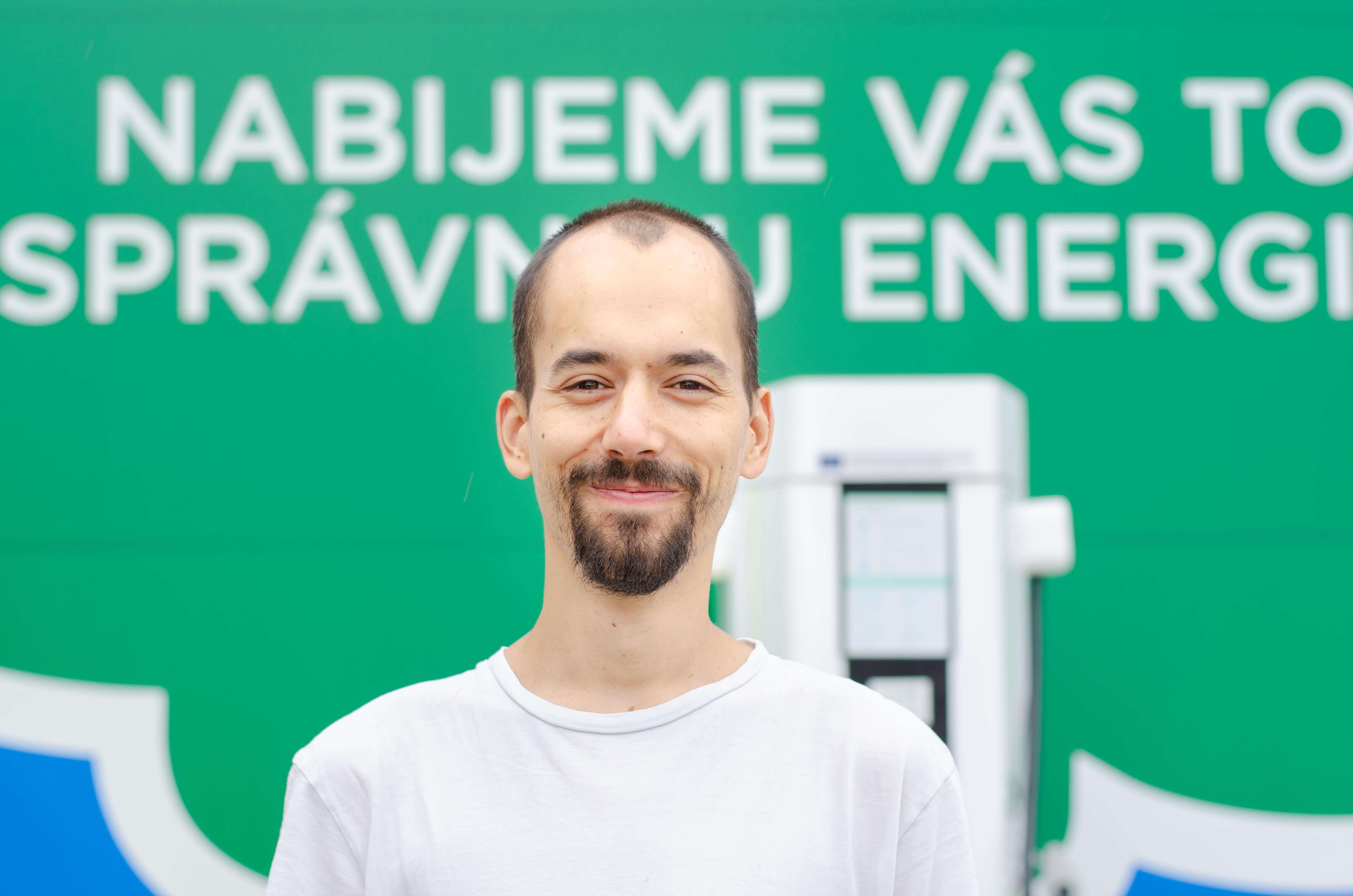 How did you end up at GWI?
I found GWI when I started to look for a full-time job after a longer break. Before I have worked in a customer service department for one of the biggest websites in Slovakia. I found the advertisement from GreenWay and I liked it immediately. It sounded very challenging and the company vision was a definite yes for me – I found it very interesting, important, needed, something with an impact on each of us. I liked it so much, that I created a special GWI application, I went to a GreenWay charger, took a picture and used it for my CV. When I met my future boss at the interview and heard more about the vision and mission of the company, I said to myself – woooow, i really need to work here. Apparently, the sympathy was mutual, the process was very quick and effective and shortly I really started working here.
What is your role at GWI?
My job title is Customer Care Manager and so I am in charge of taking care of our customers. If our client has any problems or a bad experience with our services, he contacts me and I am trying to help. The issues are mostly problems with chargings and clients are calling me directly from our chargers. Thanks to our back-end system we can remotely communicate with the chargers, so usually I am able to solve most of the issues by starting the charging remotely through our system, or by restarting the charger. I work a lot with the guys from asset management, who take care of our chargers and with Aaron from marketing, with whom we proactively approach our customers and try to spread the word about electric mobility to wider public. The best case is when we are contacted by someone who is not our client yet, but is interested in electric mobility, then I am able to spread the word and explain any unclarities directly.
How do you perceive electric mobility and how has your perception changed since working at GWI?
My first encounter with electric mobility was when I was passed by an electric car for the first time. It was so silent, that I almost didn't notice it at all. That was the first moment when I realized they existed. Then Tesla came and I realized that "it" was really happening. When I came to GWI I didn't know exactly at what stage electric mobility was, I didn't have the exact information about the manufacturers, models, or infrastructure. Now I have a pretty solid knowledge, I did study a lot and here at GWI we have an excellent team of people, who are experts in what they do. If I have any question, I can come to almost anybody from our company and get a firsthand information. Before I perceived electric mobility as a future vision, but now with my current information and knowledge that I gained at GWI I think it can really happen anytime now.
How is in your opinion electric mobility perceived by Slovak society?
I think the awareness in Slovakia is still quite low. The edification is missing, information is coming and awareness is rising, but still very slowly. I think the state could be a lot more involved, as an example we can mention The Netherlands, or the Nordic countries, where the electric mobility is very popular also because it was supported by the government. However, we should also start by ourselves and we who already know it is the better way should spread the thought by talking to our direct circles.
There are also a lot of myths and prejudices connected to electric mobility in Slovakia, such as those saying that emobility is not really better for the environment and people often don't have enough information to evaluate that. Luckily, we have studies that help us exactly and scientifically prove that electric mobility really is the better way, we just need to bring these proofs to the wide public.
Do you have any strong customer experiences that you can share?
Yes, there are a few, mostly moments when our customers take initiative and help us build and improve our infrastructure and services and spread electric mobility in our region. I will mention one that happened this weekend. We were contacted by our client, an owner of a plug-in hybrid Kia Optima, who had problems with charging at our charger at Aupark Zilina. Despite our huge effort, we weren't able to start the charging, so we recommended a nearby charger at Tesco Zilina, where he charged his car without a problem. The following week when we followed up and tried to figure out what was the problem, this customer was so helpful and willing, that he offered his own car for testing. Of course! We didn't need to hear more, and we are meeting him this Friday at a similarly "problematic" charger in Bratislava, where we will gratefully accept his offer. We believe that this test will help us eliminate similar problems in the future.
How would you describe GWI?
GreenWay is very special for our dedication and engagement for our work. Everybody sees the purpose of their work, if I talk to anybody in the company I can see that he realizes that we are creating a better future for the whole region. This is also shown in our work, people are far more engaged and enthusiastic. From this point of view is GreenWay really very specific for me.
When I was looking for a job, one of my most important criterium was that I wanted my job to make sense, I wanted the company to contribute to a better way of life on this planet. I wanted to be able to go home every day and feel like I have done something good. And GreenWay lets me have this.
Furthermore, the atmosphere here is really great, the relationships are very friendly and open. We have a bow in the office, we can ride an electric scooter, and we have Ondro, who is an unlimited joke teller. What more can we want?
Tell us about your colleagues
The relationships here are really very good, I think we are all on the same wave and as I already said the atmosphere is very friendly and open. We have regular team buildings, recently we all went to Orava where we met with our Polish colleagues. One Friday shortly after I started, we all went to Austria for some rockclimbing, that was a lot of fun. You are never bored here.
How do you see the future of electric mobility?
I think it will come sooner or later. I think that electric mobility in Slovakia will grow, the awareness will keep rising and at some point, the breaking point will come. Proportionally with this will GWI also grow, today we are lucky to witness the birth of a big company on a CEE market. Regarding my department – I believe that in 2030 our huge network will work flawlessly and the customer service will only add value to our existing products and we will work to make our clients only more happy.
How do you recharge your batteries?
If you are sitting the whole day at the office, you have to compensate it somehow. In my free time I am mostly in the nature, me and my friends spend a regular week in the mountains together. I love long walks, or I just go swimming.
Powered by Froala Editor
Powered by Froala Editor