We were supposed to meet at a coffee house in the city center, but shortly before the meeting Aaron changed the location to his house instead. Plans changed. Most parents know this kind of situation too well. With kids you just can't plan anything for sure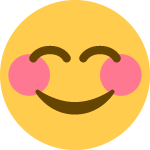 The meeting behind their kitchen table went surprisingly well in the end, since Aarons younger son Theo slept through it all and we were able to talk about everything from him being the only American in a Slovak team, to a life circling around kids and house work, that he is living now.
Aaron, how does an American from Seattle become a Communications Director in a Slovak e-mobility pioneer company?
I came to Slovakia in 2015 to be with the woman I love, now my wife. I was looking for a job and I was lucky – a friend of a friend was just starting at GreenWay and knew that they were looking for somebody to cover communication. I applied, went for an interview with both co-founders, then again, this time all in German. Finally, they decided to take the leap and took me in. There were more more of us from abroad back then, today I am the only one in our Slovak team.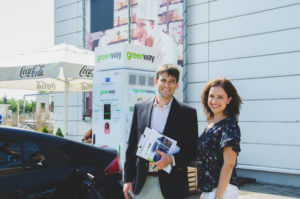 How is it?
Thankfully we have our polish branch now, so the majority of our official communication is in English. I am the only one in our Slovak office though and of course it would be easier if I spoke Slovak, I miss a lot of things and hallway chit chat. On the other hand, I learn a lot every day, kids songs and word plays at home and expert e-mobility terms at work. The people at GreenWay have always been very friendly and accommodating and luckily there is always google translate. I am very aware of the fact that a lot of meetings have to be in English only because of me, but my colleagues are great and I never felt any negative reactions from their side because of it. I guess I make it worth it & add value, from good ideas, lots of success in helping GW become well known internationally as an expert in our field, and of course, the ability to provide mother-tongue proofreading support for the many documents we prepare in English.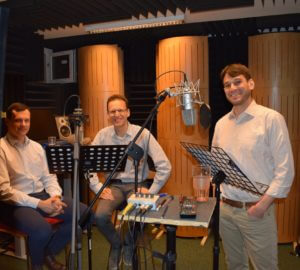 How would you describe GreenWay?
The company culture at GreenWay is just amazing. A lot of things changed in the four years that I have spent there, the company grew, established clearer processes, division of responsibilities, if you compare it to our beginnings there is probably also more bureaucracy now, but with this kind of growth that is just inevitable. There were maybe 10 of us when we started and now there about 55 people in both countries. But the friendly atmosphere stayed the same. That is what I appreciate about GreenWay the most –. Its very clear that it comes from the top, that our founder sees it as a key factor of why does this whole thing work. Professionally, my background was in government where there was never a lot of space and willingness for teambuilding activities and I think it is really great that team spirit and good relationships and cooperation within the team are one of the top priorities at GreenWay. We went to many trips and events together, where we really learned how to support and trust each other. And I think it is amazing that despite the significant growth and development of the company, the atmosphere stayed exactly the same as it was when I started.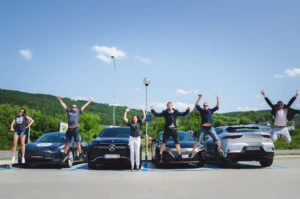 It was not only GreenWay who grew during those four years, your family expanded as well. Tell us more…
Yes, that is true, in the meantime me and my wife had two kids, Hannah, who will be three in June and Theo, what day is it today? Oh he just turned 15 months yesterday, we didn't even realize it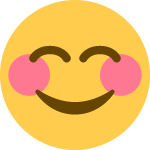 That is a relatively small age difference. That must have been quite crazy…..
It still is. My wife returned back to work last year in June and since then it has been particularly crazy. You know, it is always crazy to have two kids under 3 years old, it takes a lot of time and energy to focus on them. That my wife would return to work was decided quite early on, it was something we both wanted, it was something that we as a family were very supportive of. But since then it has been very crazy, there has been a lot of juggling and scheduling and our short times together when the kids went finally to sleep changed to logistics meetings about kids drop offs and pick ups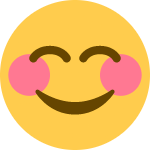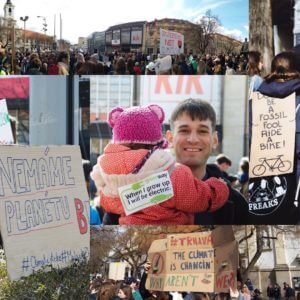 How did you manage it all?
We are both very lucky to have great employers, and relatively flexible work time. We both like our jobs, are hard workers and we really do care that we do our jobs well. Our bosses gave us enough freedom in terms of when we actually do it, as long as everything is done and we both attend the meetings that we are supposed to.
So you both were working and taking care of the kids. Would you say that you managed to split the child and house care work equally?
I have to say that now since I am at home it is much more equal; it is only now that I really understand what it actually takes. We tried before as well, but although I always tried hard to be an equal and on hands partner, most of the invisible work like planning of activities, food, shopping, doctor visits, all the mental work that goes in the background stayed with Veronika. We call it the "worry work" – it is always there even after the husband comes home in the evening, even after you drop the kids at school and go to work.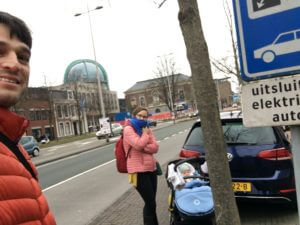 Why do you think that is?
Maybe it's because she stayed at home with the kids first, she was a full-time mom at the beginning and then after she returned to work it just stayed with her. In our case it might be also because she is Slovak, she is native and lot of the stuff is just easier for her. But mostly it is a matter of habit. She started doing it and later it just didn't change. I think it is very important to be very intentional about this handover, that you really have to intentionally start doing it and thinking these invisible tasks. But I think we managed in the end and I can do it (almost) all now. I don't think Veronika has to still worry at work about what we are going to eat the next day, she knows I can take care of it. But it took a lot of training, practice and mostly willingness from both of us.
Did you plan your paternity leave?
Absolutely not. Even a few moths ago I didn't think it was an option for me. My work has always been very important for me, I am the type of person who defines him with his work. Also, I am an expat here and although I have friends it is not such a wide social circle as I was used to have and I filled out this space with work. I couldn't imagine a content and fulfilled life without work until recently. Finances also played their role, we had to accept that the family budget would get smaller with me staying at home. But, then one day with all the debates about whose work is more important, or who can afford to miss the meeting the next day, we realized that we do not want to live like this and decided to take advantage of living in a country where we actually don't have to.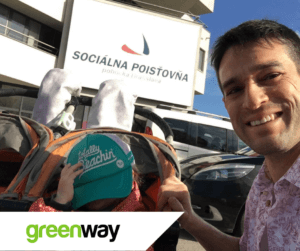 So you officially started your maternity leave a month ago. How is it going so far?
It is definitely harder than work in the office, it takes so much energy and focus. When the kids are this age they need you and your attention so much, it is such a responsibility. Yes at work there was also a lot of responsibility, there are times it is stressful, you have tight deadlines and a lot of complex tasks to work on, but you still can find time to take a break, get a coffee, talk to other adults and think about adult topics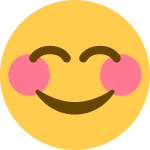 It might seem relatively simplistic to spend time with the kids, sometimes it is really banal activities like dropping pins in a box, but it is much more demanding then it seems. At the end of the day, I am being much more tired than I was from work. Also I need more sleep to be able to maintain my patience also during more stressful moments, like when you are trying to leave the house, one kid dressed and loaded in a stroller, another one crying that she doesn't want to go for so long, that the first kid needs to have his diaper changed again. These are often highly stressful situations. Of course, it is a different type of stress, different kind of energy, and focus. I am still adjusting to it, but I am sure I won't regret this time in the future. I would definitely recommend this to all fathers, it is a priceless experience.
How is your wife taking it?
Veronika signed an official document, where she signed off the the life of our children to me and I think she is completely fine with it. It is an amazing benefit for the relationship as well, I really help the marriage, it is extremely important for the mutual understanding, appreciation and respect, it eliminates tension. I think for the partnership of the parents it is one of the most obvious, but least thought about benefits, strengthening the relationship. Apart from being with the kids, this is the number one benefit for me.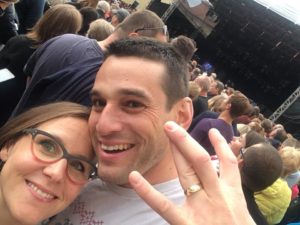 But you did not stop working completely, am I right?
It´s true. I have an agreement with GreenWay, I kept some of the work I can do flexibly. GreenWay has been great, very accommodating and family friendly, I am really glad that I stay engaged with the topic of electric mobility and our team. I know that some of my colleagues also had an opportunity to stay engaged and continued to work in some extent and they really appreciate it as well. GreenWay has always tried to create an environment and conditions for everybody to be able to balance the family, personal and professional life.
Powered by Froala Editor